Old Thread (
http://www.zroadster.net/forum/viewtopi ... =1&t=41919
)
The route has been decided...
The evening before the challenge = Day 0.
Day Zero
(53 miles)
Meet at Lizard Point(A) (most southerly point in GB)
Lizard Point to Land's End(B)
Land's End to hotel at St. Ives(C)
Day One
(569 miles & 9 hours)
St. Ives to Glasgow(D)
Day Two
(383 miles & 11 hours)
Glasgow to Ardnamurchan Point(E) (most westerly point in GB) (150 miles & 4 hours)
Ardnamurchan Point to Sheigra(F) (233 miles & 7 hours)
Day Two (Night)
Sheigra to Duncansby Head(G) (Sunset to Sunrise Challenge) (114 miles & 3½ hours)
Day Three
Duncansby Head to John O'Groats(H)
John O'Groats to Dunnet Head(I) (most northerly point in GB)
Home via Cairnwell Pass(J) (highest paved road in UK)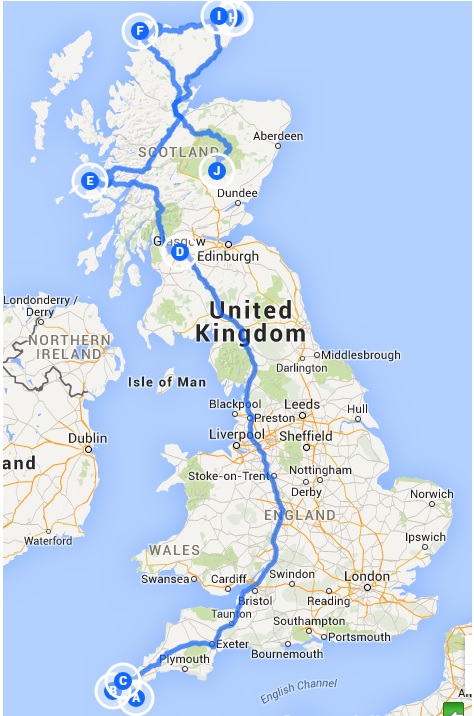 Google Maps
Day 0 is planned to be Tues 23 June.
Confirmed
Pingu
Deano1712
Brian H (Meeting at Crianlarich)
Hairycheeks (Meeting at Erskine)
Interested
Bertiejaffa
If anyone else is interested, just let me know. There is accommodation arranged at the start (hotel [£40 pp]) and Glasgow (sleeping bag req'd). There is no accommodation arranged at the finish. We will be using sleeping bags in the car or tent.