Moderator: Gazza
---
Joined: Tue 10 May, 2005 18:31
Posts: 323



Contact: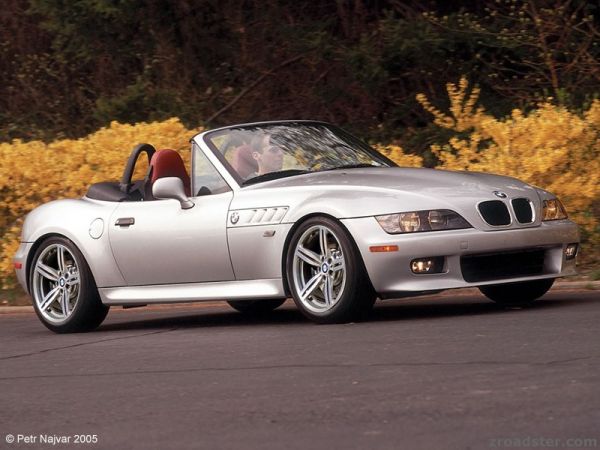 19 is pretty big tho, I would stick with 18".
---
Joined: Mon 08 Jan, 2007 21:38
Posts: 474



these are the alloys i was lookin at the other day, i think they will look the bogs dollox on a z3!

Lee
---
Z Register member
Joined: Sat 30 Jul, 2005 20:34
Posts: 4051



Location: Belfast
They look great.
BMW Z3, the only way to build a true roadster
- The most powerful letter in the world.
Cloz wrote:There is something that will never change is my love for Z3
smartypants wrote:Conor?

With an M??

The World's gone mad
smartypants wrote:The Z3 rear is a great thing to behold
---
They do, but it would have the turning circle of an ocean liner and foul the bodywork like buggery. (and possibly handle like a 3 legged camel on amphet)
You could get some proper calipers behind them though judging by what I saw in the showroom yesterday.
We all have a photographic memory, just some don't take the lens cap off!
---
Joined: Tue 10 May, 2005 18:31
Posts: 323



Contact:
What have wheels got to do with the turning circle??
---
Joined: Mon 08 Jan, 2007 21:38
Posts: 474



because the wheel will fowl-up with the inside of the arches i rekon. i still like them tho!
Lee
---
---
I still don't follow the argument about 19" wheels fouling the arches. Surely they will only do that if you put the wrong profile tyres on. If you increase the diameter of the wheel, then you must fit lower profile tyres so that the overall diameter stays the same. If you don't do this, then your speedo and odometer will not read correctly. I suppose you could recalibrate them...
In the picture above has the car not also been lowered? Which is why the wheels seem fill the arches more? And in which case that is why they will foul the arches, rather than them being 19"?
Cheers R.
Arctic Silver '99 Z3 1.9 & Black '59 Frogeye 1275cc

---
They will probably foul the arches as there will be additional width. Normall the width is mostly gained on the inside edge, otherwise the additional width of the rim would make the wheel foul the bodywork.

Can I remind, if the wheels do foul the bodywork/inner-arches when turning, its MOT failure. Not sure about if the wheels just touch the arch liner, but if they did that it would bother me enough to not bother, rather than put up with.

Chris
No longer a Zed owner.... been there, done it, disliked it. (sorry)
---
Who is online
Users browsing this forum: No registered users and 8 guests