Moderator: Gazza
I've got condensation in the offside fog light . Anyone got Amy easy repair tips or other experience?.
---
/
/
/
M
Roadster - Evolve Stage 3
---
pull out all the silica (DO NOT EAT) packets from your old shoe boxes and put them all in the light.
Dallan |07712 415 619
OZ Breyton 3-Piece Splits (17x9 & 17x12), Rayvern Hydraulics, Custom Top Mounts, Bespoke Hubcentric Spacers, Strutbrace, Aero Wipers, Wind Deflector, PiperX Air Filter, Deleted Plate Recess, Deleted Front Badge, Smoothed Boot, Continental Fogs, All Red Rears, Cleaned Bulbs (all round), Stubby Aerial, Black Grills, Halo Projector Lights, Components Upgrade, Clifford 5104x Intellistart Alarm, Custom Boot Install.
---
If I am out in the evening I run with the fog light on. It will clear
---
Haha I also have this. Very odd.
---
Actually I've used a suggestion posted on a forum on this subject . It involves drilling several small holes in the underneath of the lense which allows the condensation to drain. I also drive with the lights on to heat them also , effective and inexpensive repair.
---
Joined: Thu 07 Oct, 2010 13:39
Posts: 6318



Location: Johannesburg
The foglights have a well made clip down rear half. If the seal is in good condition, water shouldn't be able to get into the housing. I would check that seal, as well as the entry points of the wires. Perhaps a small ammount of silicone at the wire entry points, and some "presstik" around the housing seal. The presstik will seal it up and still allow you to open it easily if you need to replace a bulb etc...Drilling holes is not really a solution, as water vapour will get in, and eventually mess up the reflector or even create an electrical short. Replacement units aren't cheap, and generally go for around £40 - 50 each on eBay. It's worth opening it up, gently cleaning / drying it out, and sealing it apropriately.
"Normal is overrated"
Z3 Upgrades and Additions
---
Tried the hairdryer fix on mine a few weeks ago thinking the spring was here but on checking today the condensation is back......bahhhhhh
The twist / turn bulb holders are extremely tight as it is so its difficult to see how I could add any addditioal sealer and still be able to tighten it
Not tried running the fogs to dry them out though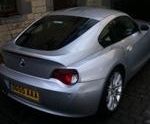 ---
Who is online
Users browsing this forum: No registered users and 2 guests