After reading the excellent "how to" by JontyP in the Z3 knowledge base explaining top mount replacement
http://www.zroadster.net/forum/viewtopic.php?t=14703
and having a slight but irritating rattle in the area behind the passenger seat, I removed both rear shocks to see if the mounts needed renewing.
Like JontyP's, mine isn't quite the same as the diagram and doesn't have the reinforcement bracket, the nuts (10) screwing straight down on to the bodywork.
The rubber is OK, not perished or cracked and still bonded to the metal but I did notice that the nuts 10 and 12 weren't particularly tight, allowing a quarter turn for both 10's and slightly more for 12.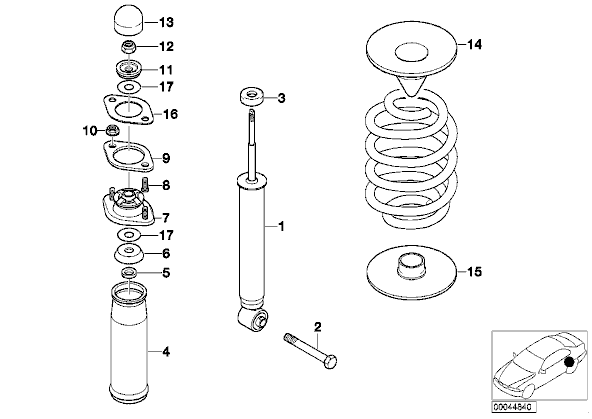 assuming the rattle would remain, I reassembled and road tested - rattle gone!
If you have a rear rattle and as it's such an easy job to get at these nuts it may be worth just peeling back the lining (you can do this without removing the round black fasteners) and if they aren't fully tightened up, tighten them a little and see if you get lucky.
nut 12 will need you to grip the square end of the rod, probably with a mole wrench or similar, as you tighten it. Take care not to over tighten anything of course!
In general the top mount doesn't seem to be a particularly marvellous piece of design work and I'm tempted to replace with the Rogue engineering version.