Hi,
[Edit: NOW WITH FULL 12 MONTH'S MOT... The car flew through it's MOT, with just a single front suspension balljoint needing replaced. All done and now 12 month's MOT on this fab car. 2.8 Roadster with Full Service History, 110k miles and Full MOT for £3k]
Had my Z3 listed on here 3 weeks ago and a fellow member viewed it, loved it, put a deposit down, but then had to leave the UK to work in Dubai on an urgent job, so had to back out!
Therefore, it's back up again, quick sale needed as I have no job at the moment and funds required for my business start-up.
(S) 1998 BMW Z3 2.8 Roadster in Boston Green.
- Great condition throughout
- Full 12 month's MOT
- Full Service History (Majority Dealer)
- Unmarked Leather interior
- 111k miles.
- Power Hood
- Air Con
- Taxed until end of June but can tax again at buyer's expense.
Comes with optional luggage rack.
Does have a small ding mark on one of the doors, and also the electric driver's seat's UP/DOWN movement is jammed. THESE ARE THE ONLY FAULTS. 2.8 Roadster with Full MOT and FSH for £3k !
If you're interested in picking up a fantastic 2.8 Roadster for the summer, at a great price, drop me an email and make an offer, or come and view - free cup of tea with all viewings!
Email me at:- misterdavidrogers ( at ) gmail ( dot ) com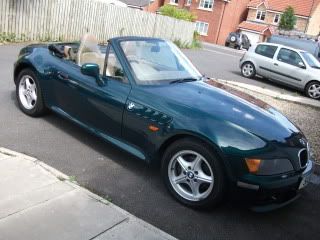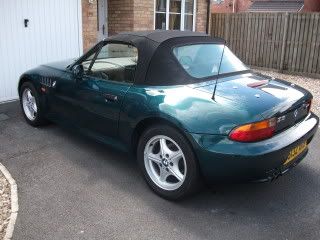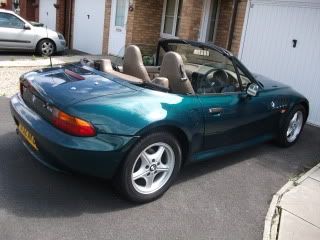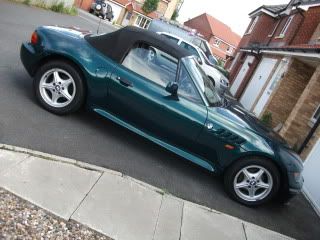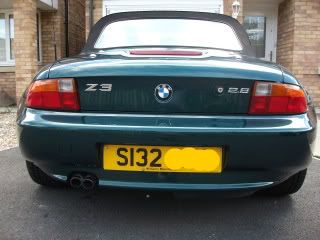 I bought this car 3 months ago for £3,150 which I thought was a good price but I will take lower offers (not by a silly amount!) for a quick sale.
FULL MOT - FULL SERVICE HISTORY