Whilst I had the radio out to replace the heater bulbs I have taken the opportunity to investigate why the radio doesn't fit as it should, specifically there is a couple of mm gap around the radio bezel and the dash. This then means that when the radio is fitted it sits too far in the dash.
Investigating further, the cause of the problem is that the hole in the dash is 189x59mm (which is pretty generous considering the standard DIN radio dimensions are 180x50mm). The bezel that fits on the front of the JVC KD-R301 is designed to cover a hole of maximum size 187x57mm. Hence the problem!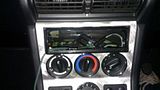 Has anyone else had this problem? I seem to recall that when I fitted a radio to my MGB (many years ago) had a plate that fitted under the bezel to cover any gaps.
Ideally, if I could source a chrome bezel that would marry up nicely with the chrome line interior in the car.
Any ideas would be appreciated.