Long before the sale of my last Z3 (2000 2.0 Cosmos Black Edition Individual) I'd been on the lookout for a respectful 3.0 model, to which I could transfer the various parts I'd collected over the years. I was determined to hold out for the right car; it had to be a late model (51>) in Hellrot Red with a decent factory spec. To cut a long story short, it never happened, I was either too picky, or too slow to act!
More recently I saw that JohnZ3 was advertising his 2003 3.0i Sport Roadster Edition Individual, it had good history, good specification, good colour combination and was clearly a cherished motor. Sadly, the timing of the advert and location of the car conflicted with a pre-booked family holiday, meaning I missed out. Thankfully, with a twist of fate, an identical twin of JohnZ3's car became available on eBay just one day later. The only difference in this car was that it had slightly more miles on the clock and no cruise control. It was priced a fair bit cheaper but was clearly in need of a good detail, plus a few cosmetic touches to recover from any past neglect. Long past running out of patience, I decided to take my chances and travel 350 miles to view the car - after all, with a registered date of 18/08/2003 it was just 2 weeks from being a 53 plate, which must surely make it one of the last Z3's registered in the UK?
The eBay ad photos:-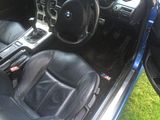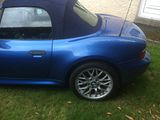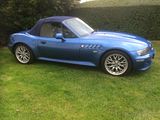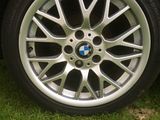 The previous owner maintained the car to a very high standard but was solely concerned by practical mechanics as opposed to aesthetics. I am confident the inside of the car hadn't been cleaned once over the last 12 months. Despite the filthy interior the 350 mile drive home was a dream, the car felt solid and drove perfectly smooth, clocking a respectful 35mpg, despite some spirited driving!
Once home, the first thing to attend to was the interior. Four fresh microfiber cloths met their demise in order to remove the thick layers of dirt that clogged every area of the interior. The only saving grace was that the dirt appeared to have helped preserve things, as the photos below help to show...!
The M Coloured stitching was barely visible before cleaning...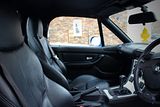 Late-spec sport seats with smooth bases...
Once I've found the time to detail the exterior of the car I'll add some further photos to this thread.