What started off as a simple job, realigning the drivers side front bumper has thrown up an electrical question.
Using this thread (love the web address
)
http://www.eatsleeptinker.com/2013/02/2 ... -adjusted/
it was a straightforward job to bring the bumper forward into alignment with the headlight.
However, with the inner wheel arch out of the way I noticed there was a pair of wires from the loom (green with a black thread and yellow) that also have connections to the horn and fog lights that were not connected to anything?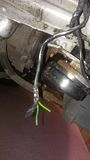 I have had a look through the Haynes Z3 manual but can't figure what the wires are meant to connect to, my only thought was the reference to twin horns on the Z3. My car has just has a single horn on the the drivers side. I will have a look at the passengers side tomorrow.